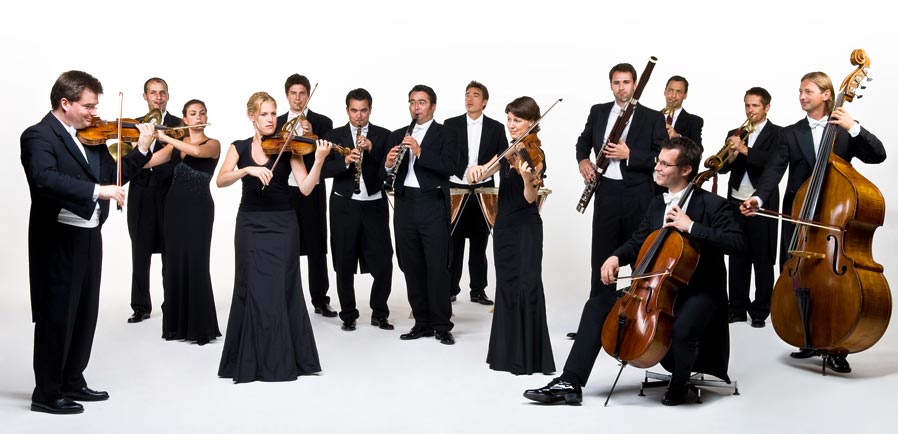 The Salzburg Orchestra Soloists
Great music played by a small ensemble
Founded in 2005 by Andreas Steiner, the chamber ensemble Salzburg Orchestra Soloists"  consits of leading members of the Salzburg Mozarteum Orchestra and of major Austrian and German orchestras. Until 2007, the ensemble performed under the name of "Salzburg Soloists".
They concentrate mainly on symphonic works of the Classical and Romantic periods.
The musicians also set great store by their repertoire of Classical, Romantic and 20th-century ensemble music, and particulary chamber works by the founders of the IGNM (international society for new music, founded in 1922). The distinguishing feature of the Salzburg Orchestra Soloists consists in their soloistic performance of orchestral or ensemble works - whether in arranged or original scoring - usually without a conductor.
Through intensive collaboration by highly qualified musicians with solo experience, the ensemble has evolved a characteristic style and sound which have brought it wide acclaim at home and abroad.
Since 2007, the Salzburg Orchestra Soloists have been regular guests at Festivals and concert series throughout Europe.
After their début at the world-famous Salzburg Festival in 2013, they were invited to give performances in several parts of the 2014 programme.
The ensemble is now in great demand for opera productions in Austria and Germany, and has been invited to do an extended concert tour of Korea Republic in autumn 2014.
Many CDs by the ensemble – both studio productions and live recordings – are available on the market, and have been reviewed internationally.